ElastBox400 Industrial Computer
September 7, 2021

EG500 Edge Computing Gateway
February 28, 2022
EG410 IoT Gateway
$316.00 – $395.00
Elastel EG410 is an industrial IoT Edge Gateway designed for IoT applications. Powered by Raspberry Pi Compute Module 4 (CM4) with our rugged, industrial-grade carrier board,  and whole Aluminum fanless cooling technology, it's the Raspberry Pi IoT solution for you apply in Industrial Gateway, Automation Controller, Data Acquisition and Edge Computing…
 ★  Raspberry Pi CM4 variant Edition Available.
 

★ 

1GbE WAN/LAN, 4G LTE/3G/2G/NB-IoT, LoRaWAN (via miniPCIe) optional.
 ★  Industrial-grade design with RS232/RS485/DI/DO.
Description
Leverages Raspberry Pi CM4 powerful and flexible computing capability, equipped with our industrial-grade PCB and and efficient fanless cooling enclosure, EG410 was designed for easy deployment of typical industrial applications.

Since 2021, EG410 was applied in IoT Edge application such as smart grid, transportation management, public utilities remote monitoring and control, digital signage, and industrial automation .... by thousands of Elastel partners.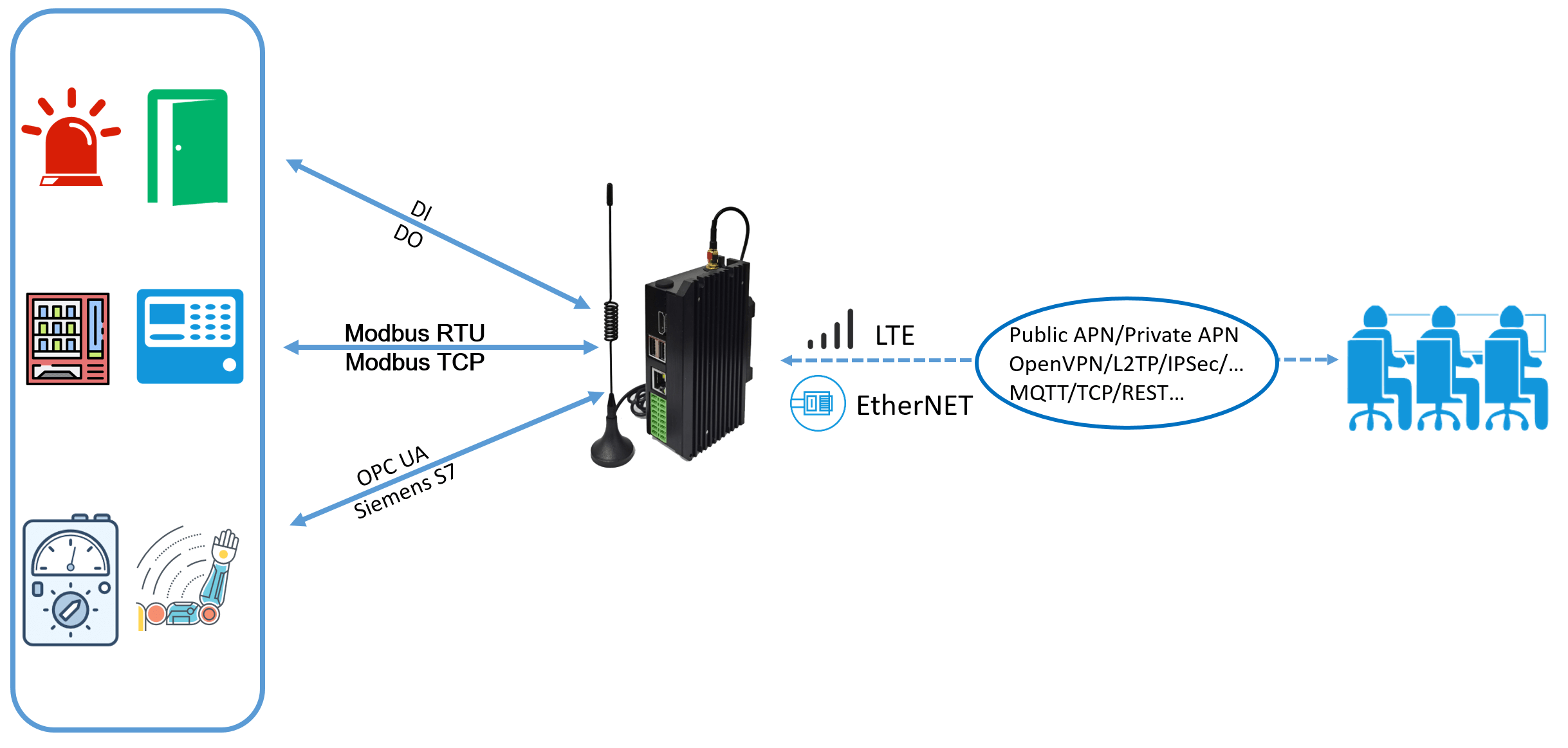 With 4G LTE/3G/2G/CAT M1(eMTC) and NB-IoT cellular network enabled, LoRaWAN(optional via miniPCIe), Dual-band 2.4GHz/5GHz Wi-Fi, Gigabit Ethernet diverse network connectivity, and Optimized Raspbian/OpenWRT based OS, you can easily setup the interoperation with cloud service.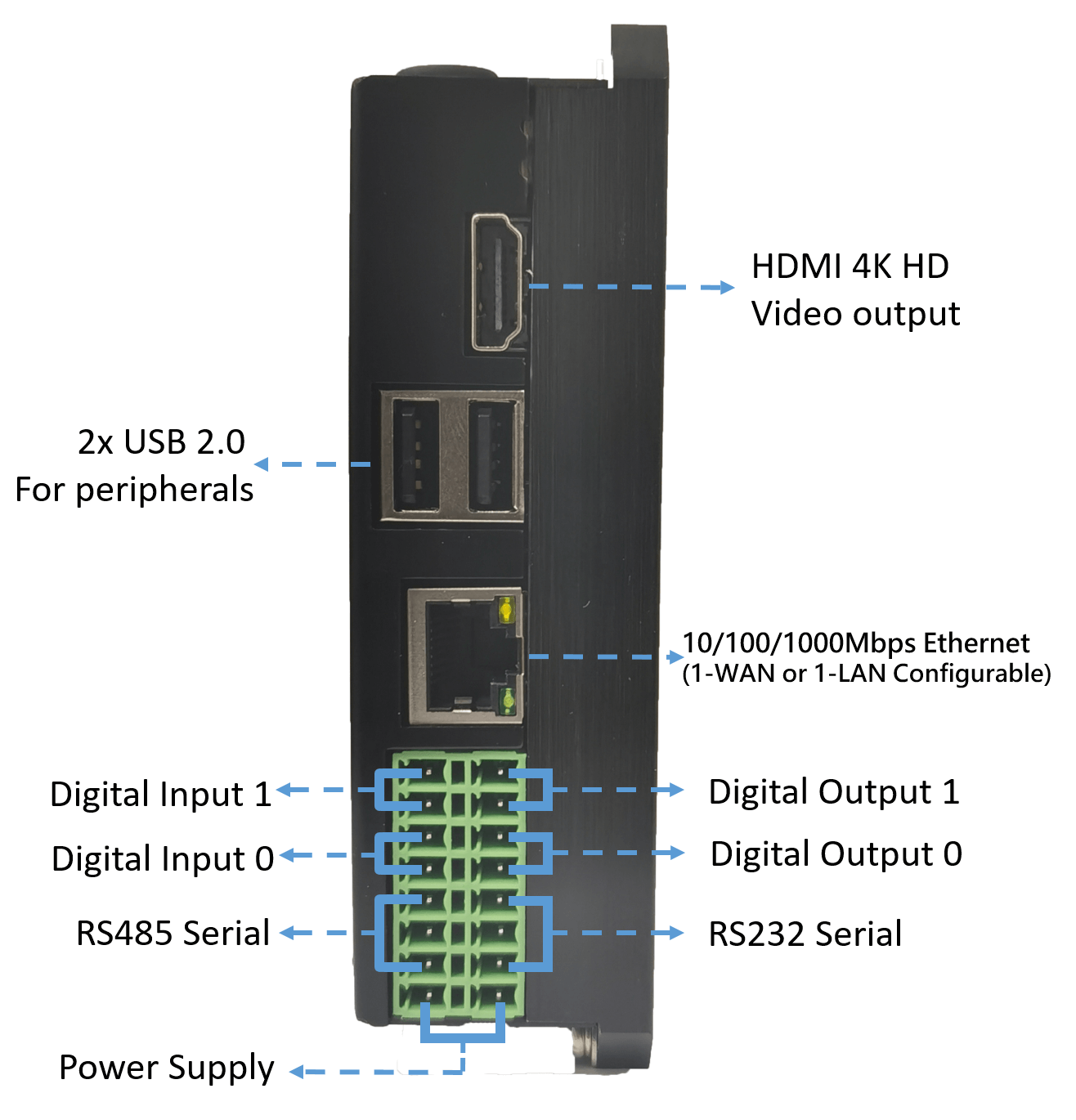 Rich Industrial Interfaces and Protocols
Born for the diversified IoT industry, EG410 is compatible with a rich selection of industrial ports and protocols for data acquisition and control. Like Modbus RTU, Modbus TCP, OPC UA, Siemens S7, etc.
Isolated Serial Port 1x RS485 and 1x RS232
Industrial-grade isolated 2x DI and 2x DO
1x 10/100/1000Mbps Gigabit Ethernet Port
1x Up to 4kp60 supported HDMI output
2x High-Speed USB 2.0 Ports for peripherals
Wide Range Voltages Power supply 9~36V DC/1A
1 x M.2 socket with 2280 NVME SSD support
Highly-reliable and Diverse Wireless Network
EG410 offers multiple network connectivity: global cellular 4G/LTE, Gigabit Ethernet, Wi-Fi, etc. With built-in multi-layer link detection and failover mechanism ensures the remote devices are highly reliably and continuously connected.
Worldwide carrier 4G/LTE, 3G, NB-IoT cellular network
Dual-band 2.4GHz/5GHz Wi-Fi
Local Bluetooth for easy configuration
LoRa, Zigbee Compatible via mini-PCIe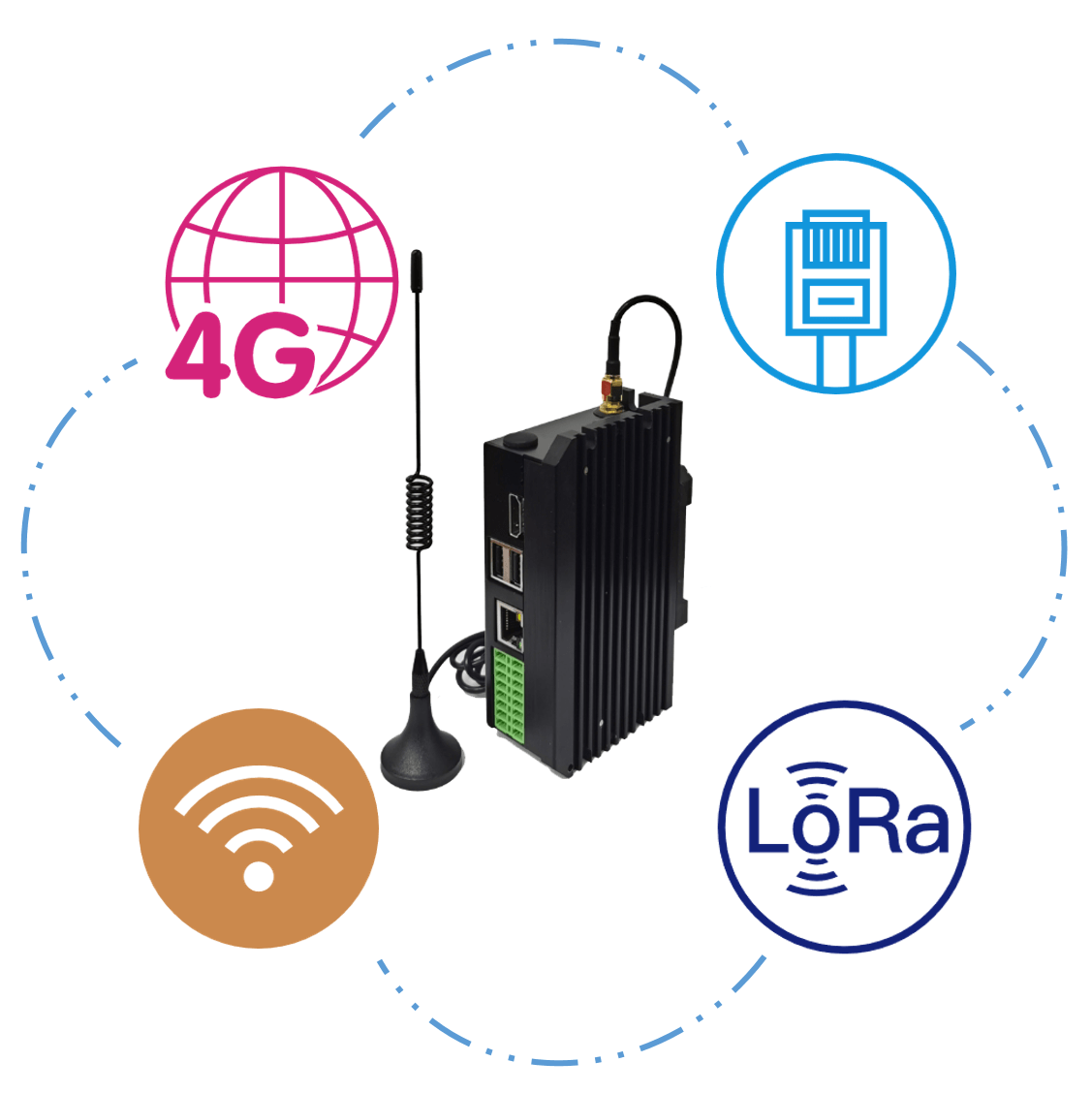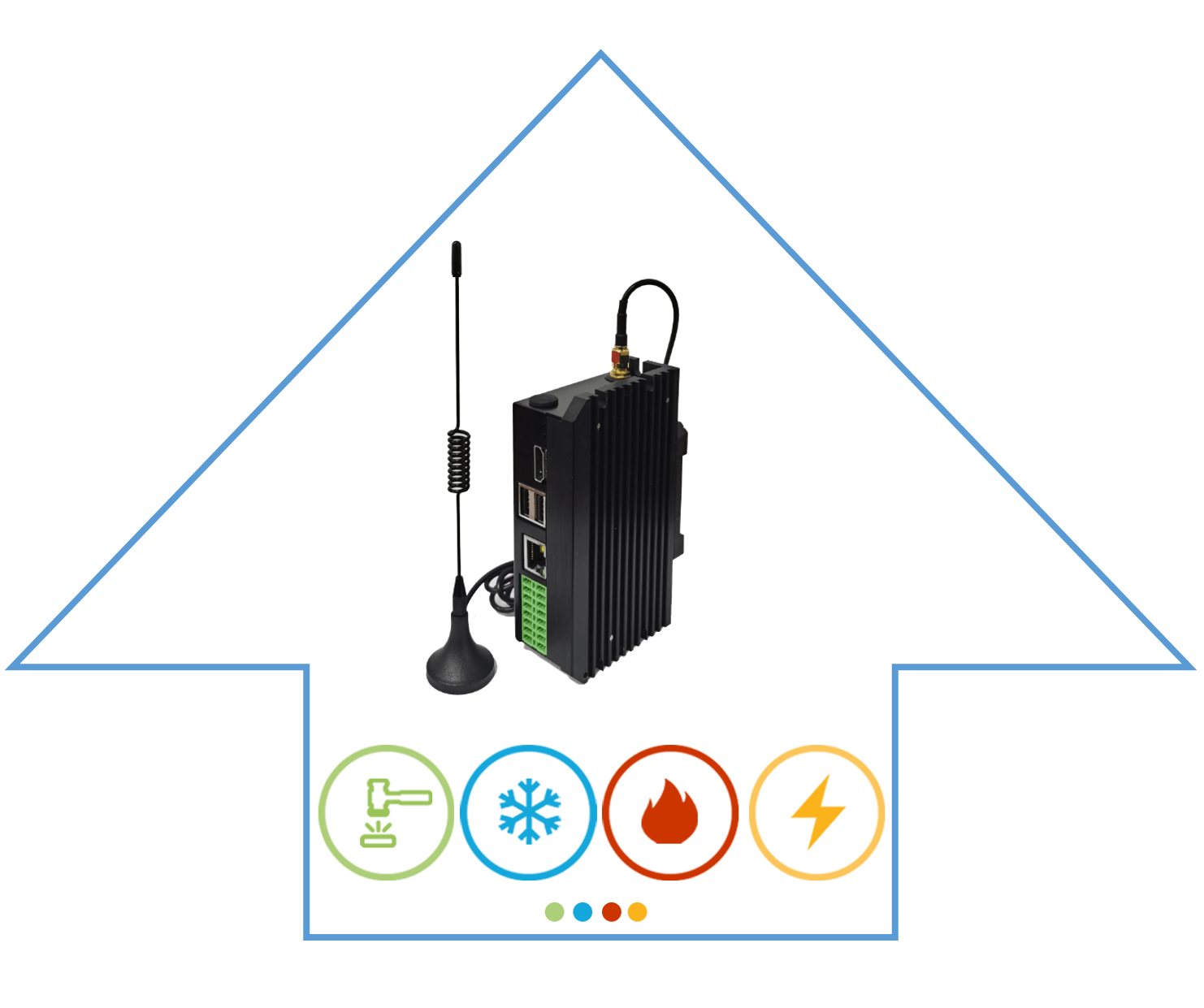 Fully Industrial-grade Design
From computing module, communication module to each electronic components, EG410 adopts strict industrial grade standards. Meeting industrial grade on harsh environmental conditions of industrial fields.
Operating Temperature: -25°C to +70°C
35mm DIN-Rail and wall mount Supported
EMC & ESD Protection, 1.5 kV RMS Ports Isolation.
Built-in RTC with supercap
Powerful Computing & Elastic Program Platform
Benefit from Raspberry Pi CM4 high-performance computing capability and Operation System compatibility, it's easy to build up your specific applications programs with SDK provided by Elastel.
ARM Cortex-A72 Quad-core processor 1.5GHz, 2GB RAM + 8GB eMMC (diverse RAM and Storage optional)
Raspbian/OpenWRT Based Linux OS, Docker, Node-RED, Python... available
Pre-compiled software bundled for common application like data acquisition, Modbus collection, MQTT...
Easy interoperate with IoT Ecosystem like Microsoft AZURE, Amazon AWS, AliCloud, ThingsBoard platforms, etc.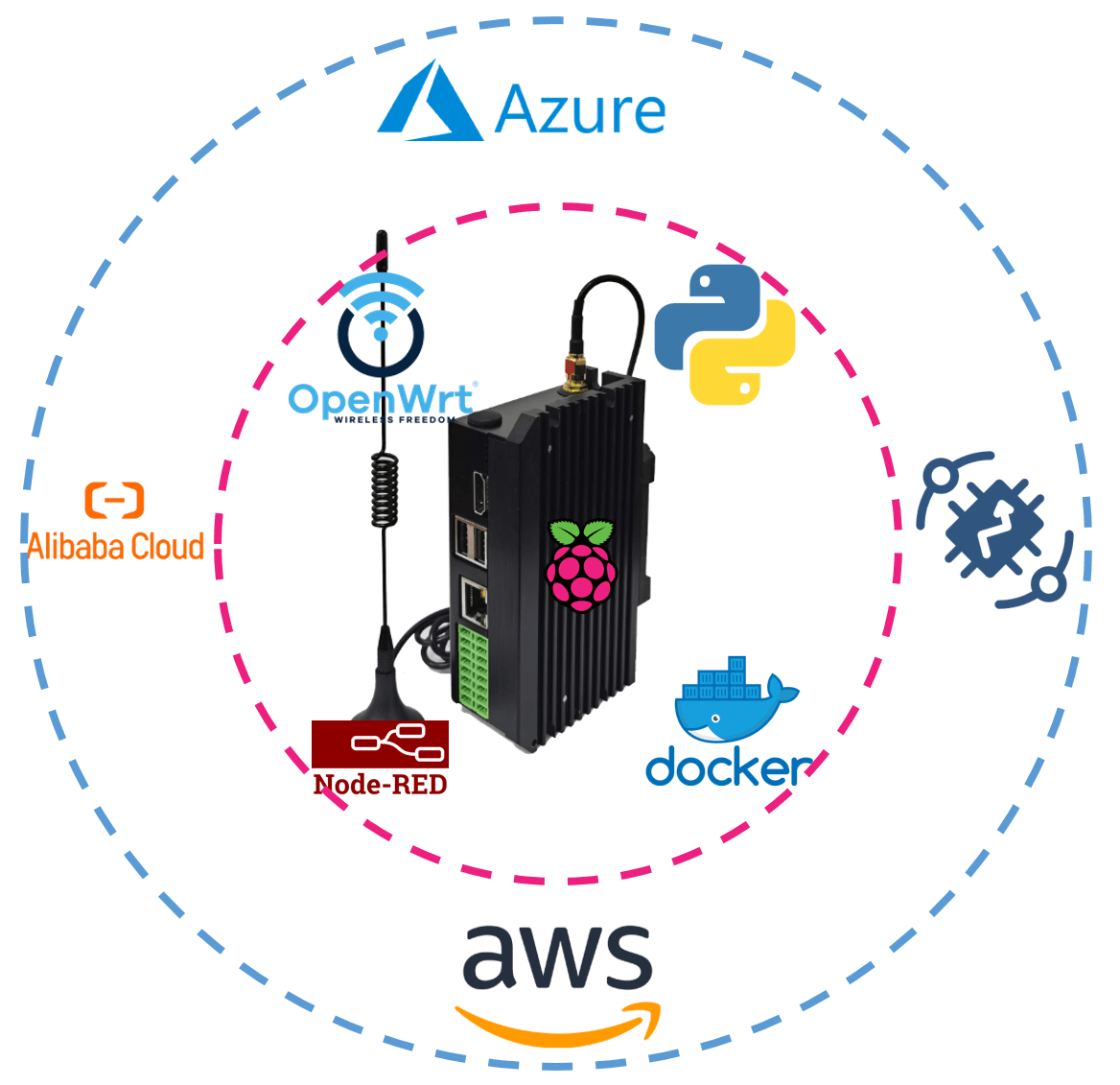 Applications
With the Raspberry Pi CM4 running up to 1.5GHz computing capability, and flexible Linux Operating System, EG410 could be in any kinds of your applications and PoC.
Edge computing Gateway
Data collecting from slave devices, analyzing and storing. And with flexible configuration, it is perfect as a protocol and interface converter Gateway.
Industrial modem and cellular Router
With a built-in cellular module, EG410 can be configured as an industrial modem and router operating in 4G/LTE, 3G, NB-IoT mobile network. Easily remote access in by build a VPN or a defined public IP.
Programmable Logic Controller (PLC)
With Serial ports and DI & DO ports available, and take advantage of Software-defined PLC, EG410 can easily operate as a typical PLC.
Micro Server Computer
The Compact and high reliability design with HDMI port, allows EG410 operate as a micro server. Raspberry Pi compatibility and Linux OS provides computer operation possibility.
Specification
Check the Specifications Tab for more details.
Specifications
Hardware platform
CPU
Broadcom BCM2711, Quad-core A72 (ARM v8)@ 1.5 GHz
Memory
2GB (1GB/4GB/8GB optional) LPDDR4
FLASH
8GB (16GB/32GB optional) eMMC
Network & Interfaces
Ethernet
Gigabit Ethernet x 1, (1-WAN or 1-LAN Configurable)
Cellular
4G LTE / 3G / 2G / NB-IoT / CAT-M1
Wi-Fi
Dual-band 2.4GHz/5GHz 802.11b/g/n
Bluetooth
Supported
GPS
Cellular Module built-in supported (Optional)
SIM
1.8 V/3 V; drawer-type Nano card holder × 1
15KV ESD Protection
Antenna

4G: inside SMA x 1

、

WiFi/Buletooth: inside SMA x 1

Industrial Serial Port

RS-232 x 1

,

RS-485 x 1;

RS-232 signal: TXD, RXD, GND; RS-485 signal: A, B, GND; ESD protection: 15KV
I/O
2-channel digital input DI
2-channel digital/pulse output DO
USB
USB 2.0 x 2 for peripherals,
USB-C x 1 for Power supply and Console
HDMI
HDMI 2.0 x 1, (Up to 4kp60 video & audio output)
Additional drive
1 x M.2 socket with 2280 NVME SSD support
Standalone Watchdog timer
Power
Power supply
Wide Range Voltages 9~36V DC/1A
Power Terminal
Unpluggable industrial terminal connection
Power consumption
Less than 10 W (system)
(Optional) Real-time clock (RTC)
Embedded RTC, power supply with a supercapacitor
Mechanical features
Protection
IP30
Housing
Aluminum Heatsink
Cooling
Fanless cooling
Dimensions (cm)
124mm x 76mm x 35mm
Installation
DIN-rail, wall mounting
Ambient temperature and humidity
Storage temperature
-30 ~ 75°C
Ambient humidity
5 ~ 95% (non-condensing)
Operating temperature
-25 ~ 70°C (industrial grade)
EMC index
Static electricity
level 3
Radiated electric field
level 3
Surge
level 3
Others
Certification
CE
Warranty
Standard 12 Months
Software Features
OS
Raspbian with SDK /OpenWRT V21
Configuration
WebUI, Local CLI, Remote configuration
Upgrade operate
Local USB upgrade and remote upgrade (optional)
Timed startup and shutdown
Supported
Application features
Data Acquisition, Modbus RTU, VPN, Router, Firewall, Media Player…
Python, Node-RED, Docker…, Support Secondary Development.
OpenVPN, L2TP, PPTP, IPSec, WireGuard VPN, ZeroTier…
Network Features
WWAN and WAN Failover, Load Balance,
PPP, PPPoE, SNMP v1/v2c/v3, TCP, UDP,
DHCP, RIPv1/v2, OSPF, BGP, DNS, DDNS,
Modbus RTU/TCP, HTTP, MQTT, ARP, QoS, SNTP, Telnet, SSH
Related products
Elastel EG500 IoT Gateway WiFi HaLow Edition is an industrial IoT Gateway designed for IoT applications those specially using 802.11ah WiFi HaLow technology. Leverage SX-NEWAH module from SilexTechnology, the first industrial IEEE 802.11ah Wi-Fi module, EG500 is able to as a WiFi HaLow Gateway/Router for your IoT projects.

 ★  Powered by high-performance Raspberry Pi CM4.
 ★  Leverage SX-NEWAH module that operates in the Sub 1GHz

Long range (up to 1 km)

LPWAN technology.

 ★

GbE Wired, 4G LTE, 2.4G/5G WiFi for WAN connectivities.
 ★  Industrial-grade carrier board with RS232/RS485/DI/DO and enclosure.

$

438.00 –

$

548.00

The Elastel Elink series industrial cellular router ER500, is a dual-SIM cellular router that integrates global 4G LTE, with 5x 10/100 Mbps Ethernet ports and Wi-Fi support, also extended 1xRS232 and 1xRS485 serial ports for industrial usages.

 

★  

Dual-SIM seamlessly failover for Global 4G LTE/ 3G/ 2G networks


 ★ 

  5x 10/100 Mbps ETH ports (1-WAN 4-LAN, or 5-LAN), Wi-Fi integrated

 

★ 

  Easy-to-use webUI with prebuilt Serial-to-IP data SCADA features

 

★

   -35°C to +75°C Operating Temperature, Industrial rugged and reliablity


 

$

215.00 –

$

265.00

Rated 5.00 out of 5

The Elastel Elink series industrial router ER550, is a dual-SIM 5G Gigabit router that integrates global 5G, and compatible 4G & 3G, with 5x 10/100/1000 Mbps GbE ports and dual-band Wi-Fi support, also extended 1xRS232 and 1xRS485 serial ports for industrial usages.

 

★  

Dual-SIM seamlessly failover for Global 5G/ 4G LTE/ 3G cellular networks


 ★ 

  5x 10/100/1000 Mbps Gigabit Ethernet ports (1-WAN 4-LAN, or 5-LAN)

 

★ 

  2.4G & 5.8G Hz Dual-band Wi-Fi, Up to 866.7Mbps speed

 

★ 

 

Dual-core ARM Cortex-A53@ 1GHz CPU, 512MB RAM + 4GB eMMC, with OpenWrt based OS



 

★

  

Industrial rugged and reliablity

, -35°C to +75°C Operating Temperature


 

$

565.00 –

$

575.00