EG500 WiFi HaLow Gateway
March 24, 2022

EC212 Industrial DTU
July 21, 2022
EG324 IoT Gateway
$189.00 – $235.00
The Elastel EG324 is an Arm-Based IoT Gateway provide a high-performance computing platform for embedded data acquisition and communication applications.
 ★ 

Armv7 Quad-core Cortex-A9

1.4 GHz CPU, 512MB RAM + 8GB eMMC

 

★  

4x

Isolated RS485/RS232 for industrial data acquisition

 ★ 

 

Dual auto-sensing 10/100 Mbps Ethernet

 

★

   

Mini-PCIe slot for 4G LTE/3G/2G/NB-IoT/Cat M1 Cellular Network

 

★

  

-40°C to +85°C Operating Temperature.
These versatile capabilities let users efficiently adapt the EG324 to a variety of complex communications solutions.
Description
The EG324 is an Arm-based high-performance industrial gateway, with 4x RS485/RS232 serial ports and built-in 4G LTE available, this powerful and compact package makes it prefect for data acquisition and communication applications. Also suitable for various of industrial solutions.

With full industrial-grade design, guarantee this compact embedded computer reliably working on wide temperature, electromagnetic, lightning surge.....harsh environment.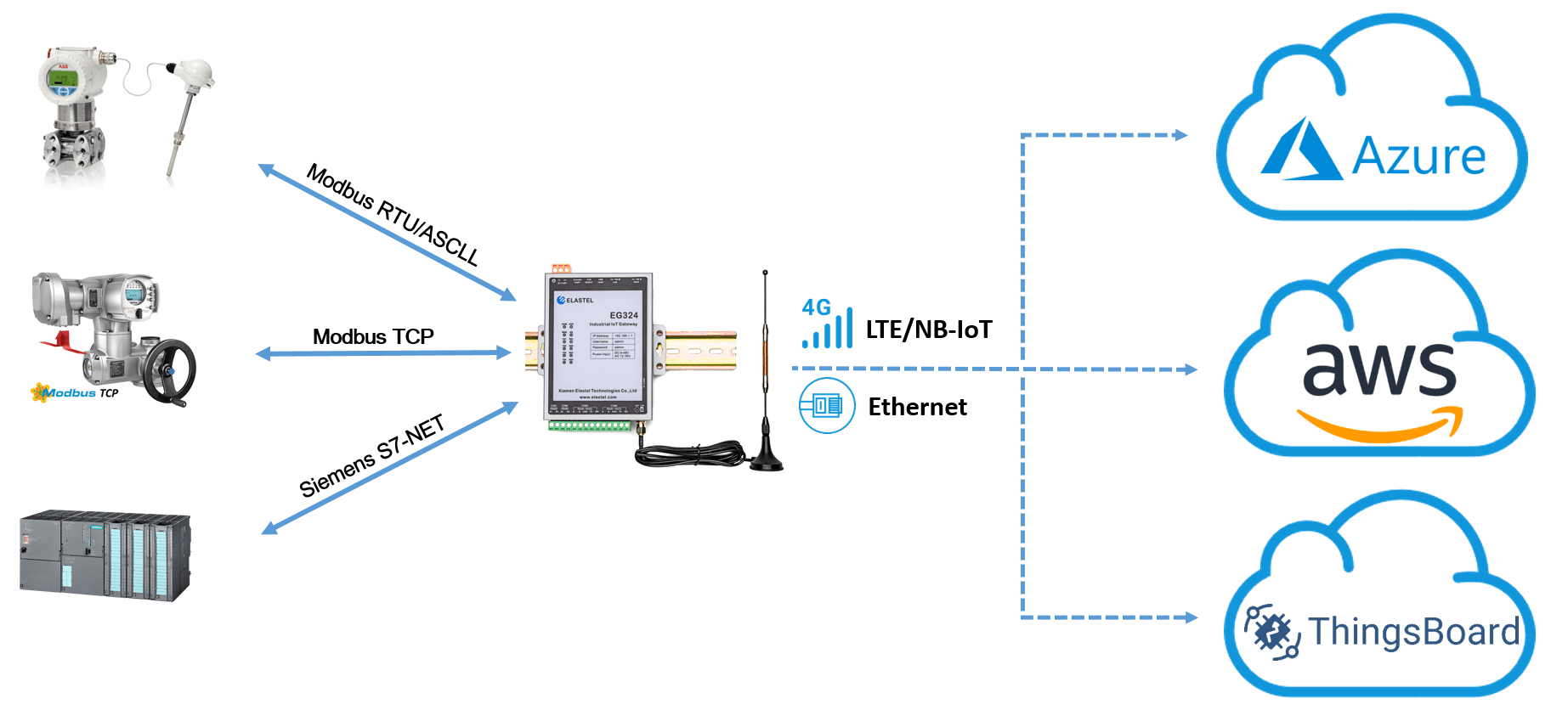 Leverage the Ubuntu OS power and flexibility features, Elastel talented customers has configured and customized EG324 for their specific applications for data acquisition and processing at field sites as well as a useful communications platform for many other large-scale deployments.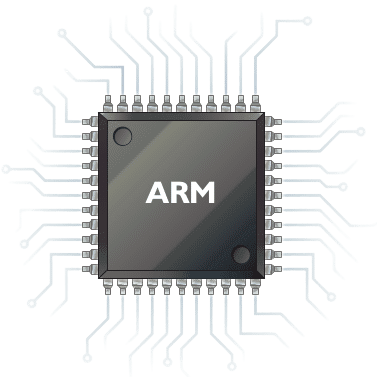 High-performance platform
Arm-based Quad-core A9 1.4GHz CPU
512MB DDR3 RAM + 8GB eMMC
1x SD slot for extend storage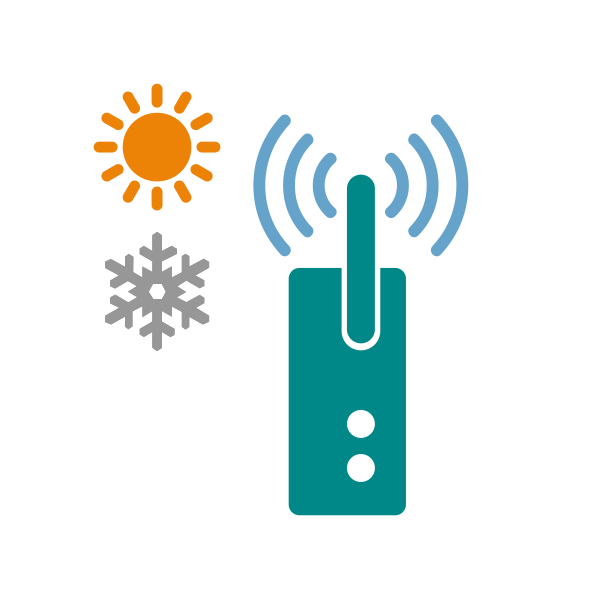 Compact and Rugged
4x Isolated RS485 / RS232
-40°C to +85°C Operating Temperature
IP30 Fanless metal Housing with DIN-rail/Wall mounting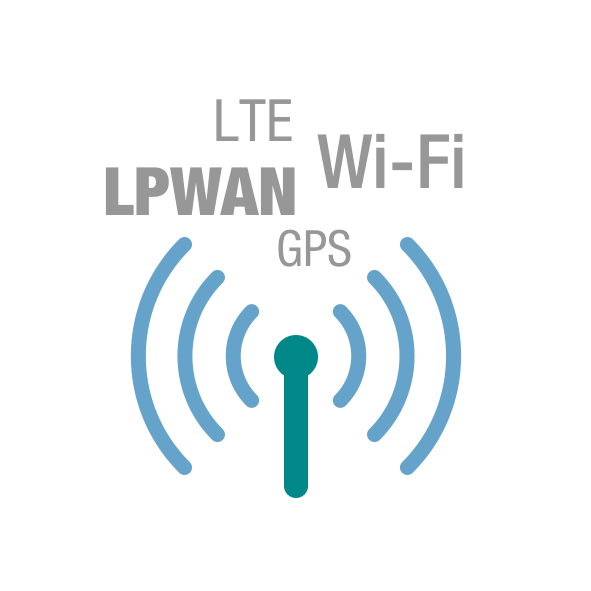 Uninterrupted Connectivity
1x mPCIe slot for 4G LTE/3G/2G/NB-IoT/Cat M1 Cellular Network
Dual auto-sensing 10/100 Mbps Ethernet
USB for WiFi module with driver pre-installed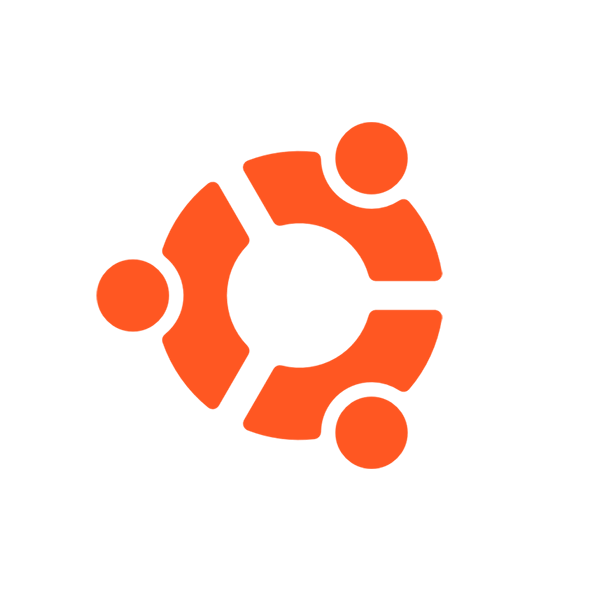 Flexible Configurable OS
ELASTEL Optimized Ubuntu core 18.04
Node-Red, Docker, Modbus RTU/TCP, OPC UA, ...protocols support
Easy interoperate with cloud IoT platforms
Applications
With the Arm-based CPU running up to 1.4GHz computing capability, and flexible Linux OS, EG324 could be in any kinds of your applications and PoC.
Edge computing Gateway
Data collecting from slave devices, analyzing and storing. And with flexible configuration, it is perfect as a protocol and interface converter Gateway.
Industrial modem and cellular Router
With a built-in mPCIe slot for cellular module, 2x 10/100 Mbps Ethernet ports, EG324 can be configured as an industrial 4G modem or router. Easily remote access in by build a VPN or DDNS.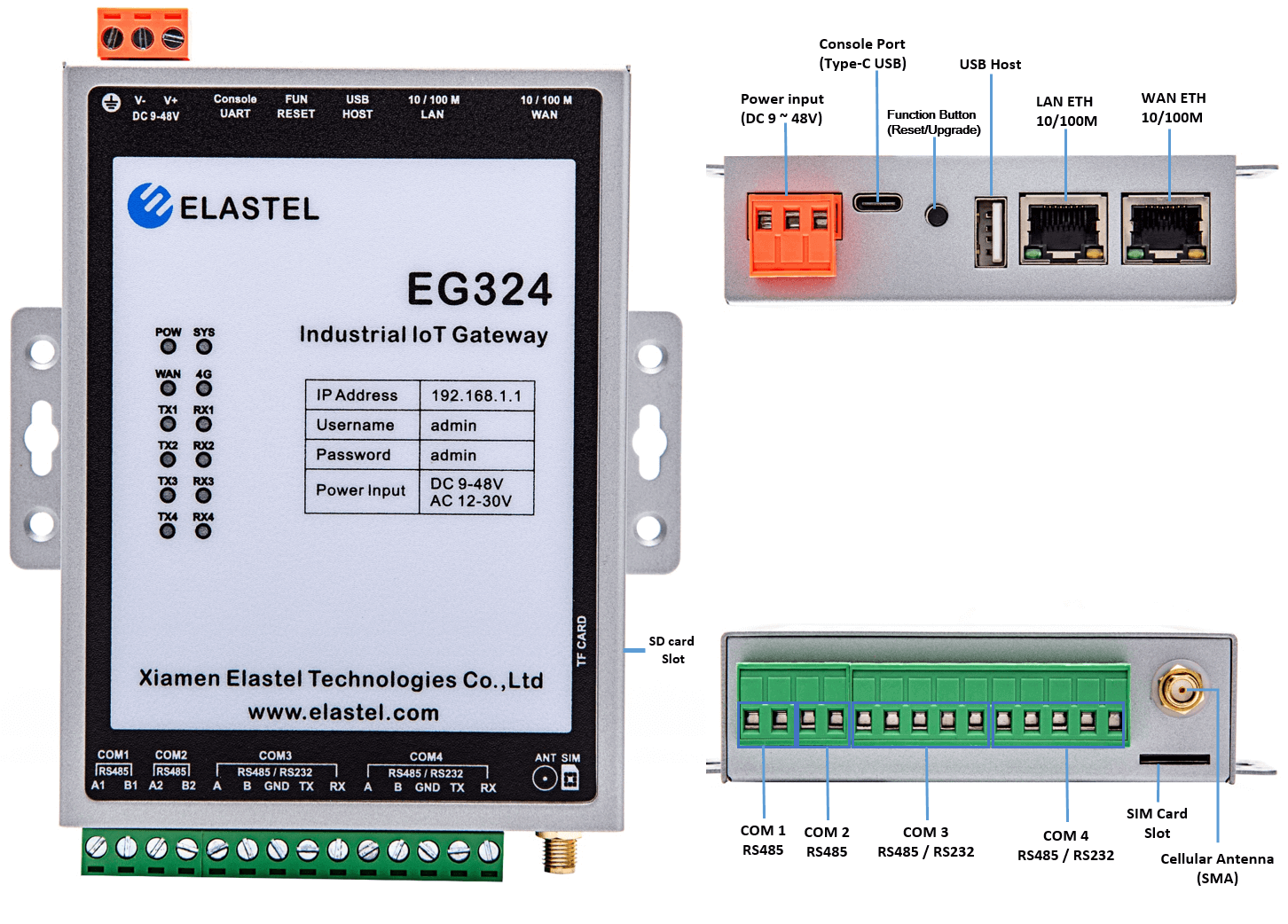 Specification
CPU
Armv7 Quad-core Cortex-A9 1.4 GHz
Pre-installed OS
Optimized Ubuntu core 18.04, easy Configurable and Programmable
DRAM
512MB DDR3
Storage Pre-installed
8 GB eMMC
Storage Slot
SD slot x 1
Serial Ports
2 x RS485 + 2 x RS-232/485
Ethernet Ports
2 x Auto-sensing 10/100 Mbps ports (RJ45 connector) , 1x WAN, 1xLAN or 2xLAN configurable
Cellular module Slots
1 x mPCIe slot for Cellular module
Number of SIMs
1
USB 2.0
1 x USB 2.0, type-A connector
Console Port
1 x UART

type-C connector
Buttons
1x button for Reset and Upgrade
Power Input Voltage
9 ~ 48 VDC, 12 ~ 30 VAC
Power Consumption
Working Mode: 6 W Peak Power: <10 W
LED Indicators
Power x 1, System (programmable) x1, Cellular WAN x1, WAN x1, COM trans x 8 (TX + RX)
Buzzer
Built-in buzzer x 1, for Warning alarm ( Programmable)
Alert Tools
External RTC (real-time clock)
Automatic Reboot Trigger
External WDT (watchdog timer)
Dimensions
128.8mm×117mm×28mm (L×W×H)
Housing
Metal
Installation
DIN-rail mounting Wall mounting
Weight
470 g (1.04 lb)
Ambient Relative Humidity
5 to 95% (non-condensing)
Operating Temperature
-40 to 85°C (-40 to 185°F)
Industrial Protocols
Modbus RTU/ASCII Master/Slave, Modbus TCP/IP Server/Client, SNMP,
Siemense S7-200/S7-300/S7-400/1200/1500 NET, Smart200, PPI/MPI, Mitsubishi FX serial, OMRON HostLink, OPC UA...
Check the Specifications Tab for more details.
Specifications
System
CPU
Armv7 Quad-core Cortex-A9 1.4 GHz
Pre-installed OS
Optimized Ubuntu core 18.04, easy Configurable and Programmable
DRAM
512MB DDR3
Storage Pre-installed
8 GB eMMC
Storage Slot
SD slots x 1
Serial Interface
Serial Ports
2 x RS485 + 2 x RS-232/485
Baudrate
300 bps to 921.6 kbps
Data Bits
5, 6, 7, 8
Parity
None, Even, Odd, Space, Mark
Stop Bits
1, 1.5, 2
Protection
Surge 4KV
ESD ±15kV IEC61000-4-2 Air Discharge
ESD ±15kV Human Body Model
Ethernet Interface
Ethernet Ports
2 x Auto-sensing 10/100 Mbps ports (RJ45 connector) ,
1x WAN, 1xLAN or 2xLAN configurable
Protection
Surge 2KV
ESD ±15kV IEC61000-4-2 Air Discharge
ESD ±15kV Human Body Model
Cellular Interface
Cellular module Slots
1 x mPCIe slot for Cellular module
Number of SIMs
1
SIM Format
Micro SIM (12mm*15mm)
Cellular Antenna Connector
SMA
Band Options
US model:
4G LTE FDD@ B2/B4/B12/B13;
3G WCDMA@ B2/B4/B5;
Carrier Approval: Verizon, AT&T
EU model:
4G LTE FDD@ B1/B3/B7/B8/B20/B28A;
4G LTE TDD@ B38/B40/B41;
3G WCDMA@ B1/B8;
2G GSM@ B3/B8;
AU model:
4G LTE FDD@ B1/B2/B3/B4/B5/B7/B8/B28;
4G LTE TDD@ B40;
3G WCDMA@ B1/B2/B5/B8;
2G GSM@ B2/B3/B5/B8;Other options please contact Elastel representative.
USB Host
USB 2.0
1 x USB 2.0, type-A connector
Power output
5V@500mA
Protection
Output Over Load protection
ESD ±8kV IEC61000-4-2 Air Discharge
ESD ±6kV Human Body Model
Other Interface
Console Port
1 x UART type-C connector
Buttons
1x button for Reset and Upgrade
Power Parameters
Standard Power
DC 12V/1.5A
Input Voltage
9 ~ 48 VDC, 12 ~ 30 VAC
Power Consumption
Working Mode: 6 W
Peak Power: <10 W
Protection
Overvoltage & polarity reverse protection
Surge 4KV
ESD ±15kV IEC61000-4-2 Air Discharge
ESD ±15kV Human Body Model
Indicators
LED Indicators
Power x 1, System (programmable) x1, Cellular WAN x1, WAN x1,
COM<x> trans x 8 (TX + RX)
Cellular LED status
Searching network: Slow flashing (200ms ON/1800ms OFF)
Idle Status: Slow flashing (1800ms ON/200ms OFF)
Transmission: Fast flashing (125ms ON/125ms OFF)
Buzzer
Built-in buzzer x 1, for Warning alarm ( Programmable)
Reliability
Alert Tools
External RTC (real-time clock)
Automatic Reboot Trigger
External WDT (watchdog timer)
Physical Characteristics
Dimensions
128.8mm×117mm×28mm (L×W×H)
Housing
Metal
Installation
DIN-rail mounting
Wall mounting
Weight
470 g (1.04 lb)
Environmental Limits
Ambient Relative Humidity
5 to 95% (non-condensing)
Operating Temperature
-40 to 85°C (-40 to 185°F)
Storage Temperature (package included)
-40 to 85°C (-40 to 185°F)
Package Contents
Device
1 x EG324 IoT Gateway with Terminal Block preinstalled
Antenna
Mag-mount Cellular Antenna (SMA
Male, 1 meter, 12dBi)
Installation Kit
1 x DIN-rail kit
Power Adapter
DC 12V/1.5A (optional)
Warranty
Warranty Period
1 year
 
 
Related products
Rated 5.00 out of 5

Elastel EG410 is an industrial IoT Edge Gateway designed for IoT applications. Powered by Raspberry Pi Compute Module 4 (CM4) with our rugged, industrial-grade carrier board,  and whole Aluminum fanless cooling technology, it's the Raspberry Pi IoT solution for you apply in Industrial Gateway, Automation Controller, Data Acquisition and Edge Computing…

 ★  Raspberry Pi CM4 variant Edition Available.
 

★ 

1GbE WAN/LAN, 4G LTE/3G/2G/NB-IoT, LoRaWAN (via miniPCIe) optional.
 ★  Industrial-grade design with RS232/RS485/DI/DO.

$

316.00 –

$

395.00

Rated 5.00 out of 5

The Elastel EG324 Lite IoT Gateway is an ARM-based IoT gateway reduced CPU and RAM capabilities from EG324 for balancing sufficient performance and cost saving.

 ★ 

ARM Quad-core A35@800M

Hz CPU, 128MB RAM + 8GB eMMC

 

★ 

4x

Isolated RS485/RS232 for industrial data acquisition

 ★ 

D

ual auto-sensing 10/100 Mbps Ethernet

 

★

 

Mini-PCIe slot for 4G LTE/3G/2G/NB-IoT/Cat M1 Cellular Network

 

★

 

Linux OS with prebuilt Web-based data acquisition programs

These features allow EG324 Lite easy be configured and large-scale deployments for data acquisition, remote monitoring and communication… applications.

$

155.00 –

$

199.00

Rated 5.00 out of 5

Elastel EG500 is an industrial Edge computing Gateway designed for IoT applications. Powered by Raspberry Pi CM4. Expanded I/O ports for industrial needs, Diverse Connectivities options, and ture IPC-grade enclosure…, These allows it perfect for IoT Gateway, data acquisition, Industrial Controller, Edge Computing…. Applications.

 

★ 

2xGbE , 4G LTE/3G/2G/NB-IoT, LoRaWAN/WiFi HaLow optional.
 

★  

Industrial-grade DI/DO/AI/CAN-bus (optional)/RS232/RS485.

 ★ 

Hardware Watchdog, Network Failover, -25 ~ 70°C working temperature.

$

375.00 –

$

540.00